Can't believe we are closing the 2017 Autumn-term this week here at Kitakyushu YMCA Language Dpt.
Time flies!!! I feel like the new year has started just last week!!!
Well, I taught two classes today.
In my afternoon class, there were two entrants to the short essay contest held in February so we gave them the certificate and prize gift!
They did very well and their essays were so interesting. I'm so happy for them!!
今週で、2017年度秋期コースが終了します。年が明けた!と思っていたらあっという間に4月・・・早いものですね。
今日の午後クラスでは、英作文コンテストの応募者2名の授賞式を行いました!
私も皆さんの力作に刺激を受けました♪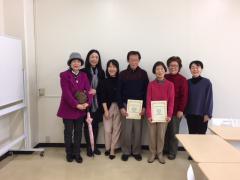 2018/03/22 05:03